Make the invisible visible – inline
ZEISS VoluMax
NEW
Inline CT
for 100% inspection
Controlli con tomografia computerizzata su grande scala
I sistemi CT ZEISS VoluMax sono destinati ad applicazioni che richiedono il controllo veloce di molti pezzi. ZEISS personalizza macchine e software specificamente per il compito da svolgere. ZEISS VoluMax può essere configurato a scelta per il caricamento manuale o automatico.

Automated defect detection you can trust
ZEISS VoluMax
Defects that occur on the surface or on the inside of parts throughout any manufacturing process may have a strong impact on the quality, stability and functionality of the part or the product. This happens, for instance, during the casting process in the automotive industry or during the production of plastic parts in medical technology. As these defects occur in an unpredictable manner, random sample testing is not enough to guarantee high quality of all parts. The solution: 100% inspection or metrology in production – with automated inline CTs of the ZEISS VoluMax family to detect and measure internal defects and structures with high speed.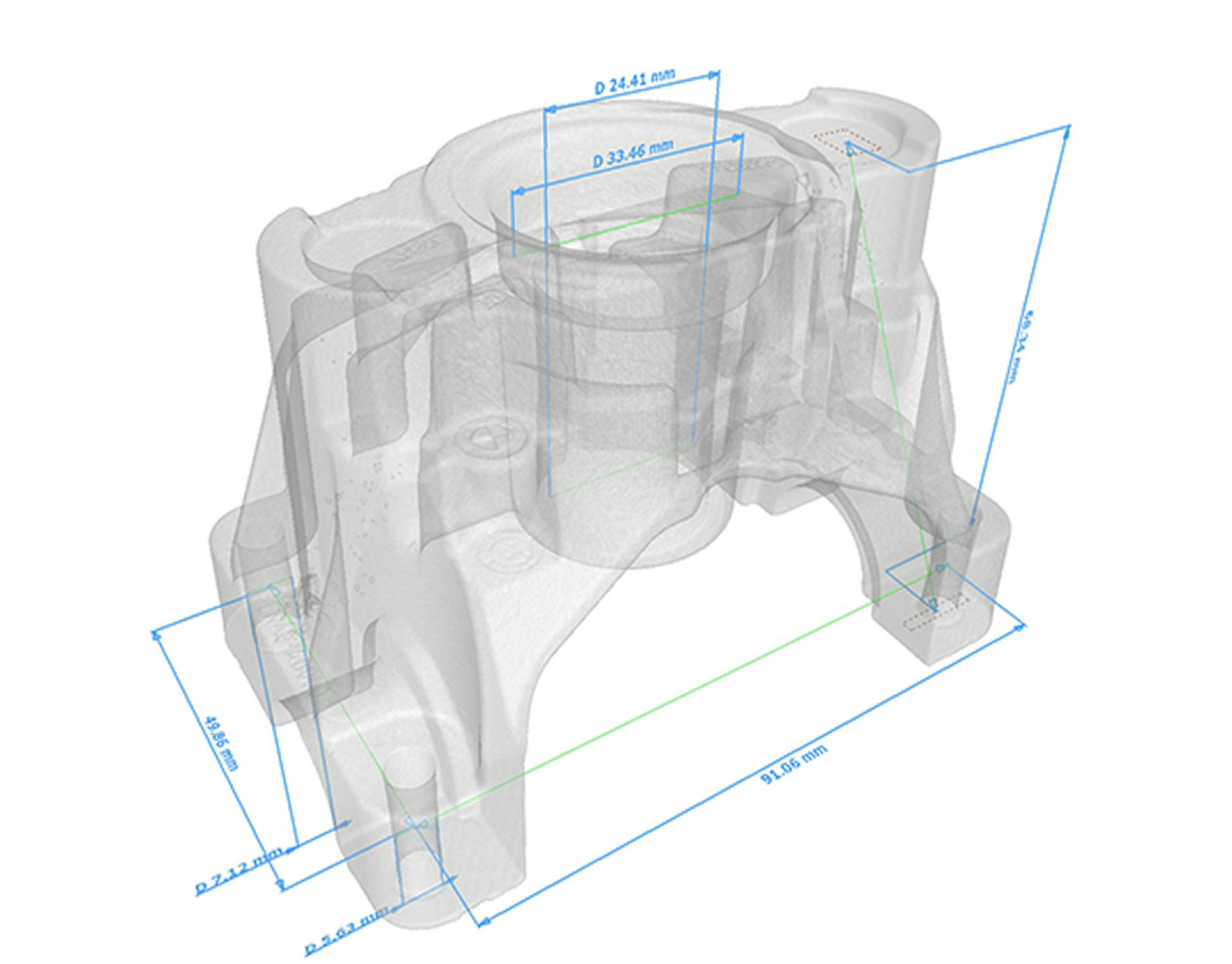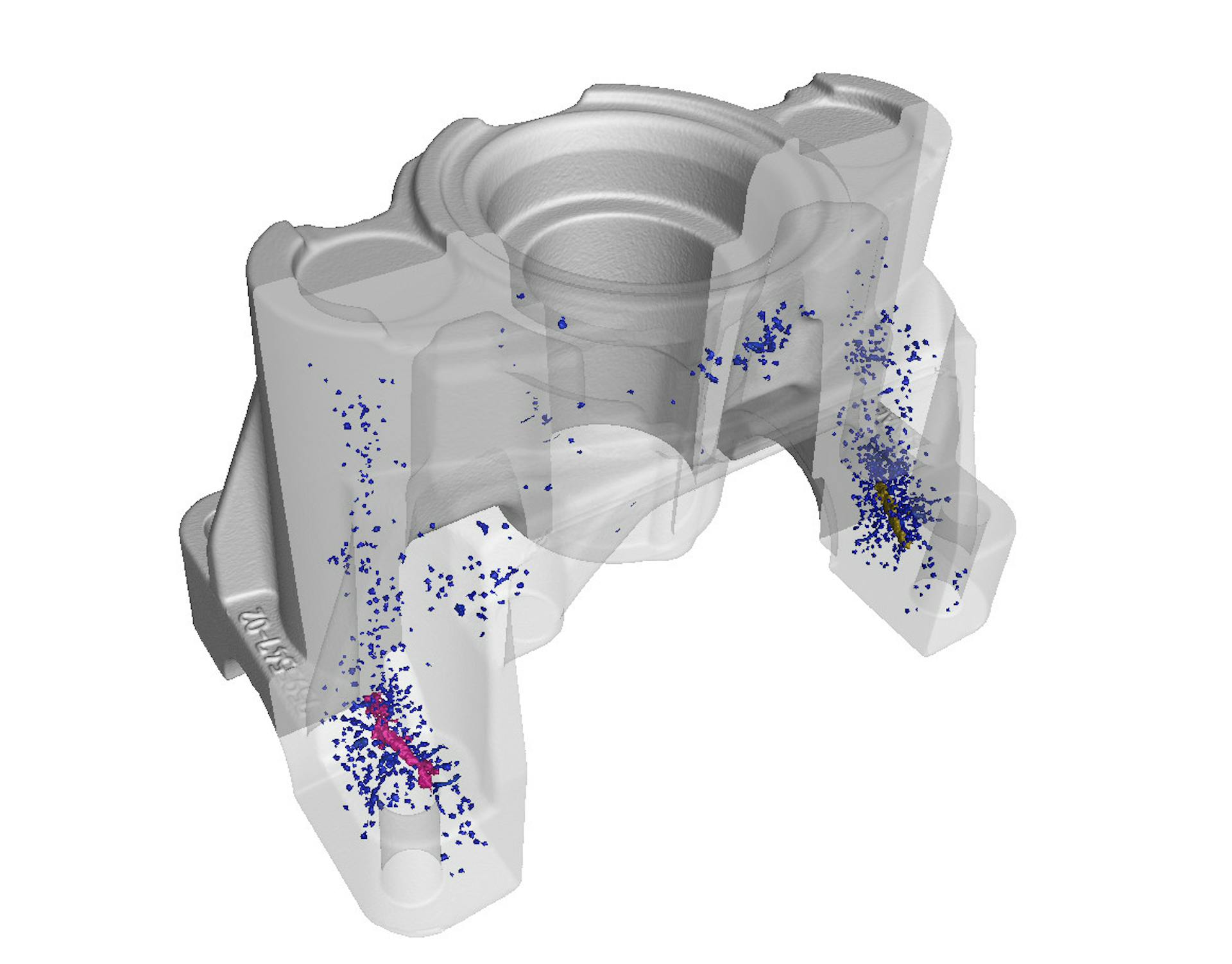 Inspect large castings at full speed
ZEISS VoluMax 9 flash
You have issues meeting cycle times when inspection large castings? ZEISS VoluMax 9 flash is the optimal solution for automated 100% inspection of large parts at high speed. The specially developed detector, which is twice as large, allows you to scan e.g. engine blocks up to 30% faster – 24/7 and without any required cooling in between the scans. High throughput and cycle times of less than 60 seconds are therefore not a problem anymore.

Upgrade to productivity
ZEISS VoluMax F1500 thunder
Detect defects reliably inside components without having to sacrifice maximum throughput? This is possible with the ZEISS VoluMax F1500 thunder computer tomograph, which is the first of its kind to be fully integrated into the production line, allowing the fastest 100% inspection.

Test direttamente in produzione
Gli scanner per CT in linea ZEISS effettuano il 100% dei controlli sui componenti in plastica e metallo leggero nel flusso di produzione – anche in ambienti produttivi particolarmente difficili. Forniscono automaticamente valutazioni qualitative in modo da poter scartare i componenti inutilizzabili. Nel corso di una verifica in serie con CT possono essere acquisite e memorizzate numerose e diverse caratteristiche del prodotto.

Grande esperienza progettuale nella misurazione
Con i sistemi ZEISS VoluMax sono già stati realizzati molti progetti per il controllo con CT di pezzi in plastica, metallo o materiali compositi. Ad esempio: gli scanner per CT ZEISS VoluMax controllano la precisione dimensionale di parti in plastica, ispezionano le testate alla ricerca di cavità e residui di sabbia o verificano il corretto assemblaggio degli airbag. Le soluzioni CT ZEISS VoluMax sono utilizzate sia in linea per controlli al 100% sia offline per esaminare grandi quantità di campioni.



Advanced software solutions for fully automated testing in the line
With ZEISS software, you can use the ZEISS VoluMax CT systems efficiently and exploit their full potential. The ZEISS Automated Defect Detection (ZADD) software uses the CAD model to automatically detect, localize, classify and evaluate whether there are any defects within your components that will impair their quality after processing. Defective components are automatically sorted out to save the costs of unnecessary further processing. The ZEISS PiWeb data management software recognizes repeated occurrence of defects, which allows early intervention in the casting process and thus reduces scrap and costs.

Measuring several components in one scan
A significant advantage of computed tomography is that it can replace several costly individual tests. Several smaller components can be recorded in one scan and automatically evaluated with regard to dimensional accuracy. This enables a high throughput in production.



VoluMax M400
Fast inline metrology of small plastic parts
| | |
| --- | --- |
| Part size | ●○○○ |
| Accuracy | ●●●● |
| Speed | ●●○○ |
| Footprint | ●●○○ |
| Density | ●●○○ |
| Resolution | ●●●○ |

VoluMax M800
Inline metrology of mid-sized plastic parts
| | |
| --- | --- |
| Part size | ●●○○ |
| Accuracy | ●●●● |
| Speed | ●○○○ |
| Footprint | ●●○○ |
| Density | ●●○○ |
| Resolution | ●●●● |

VoluMax F800
Fast inline inspection of mid-sized parts
| | |
| --- | --- |
| Part size | ●●○○ |
| Accuracy | ●○○○ |
| Speed | ●●●○ |
| Footprint | ●●●○ |
| Density | ●●●● |
| Resolution | ●●○○ |

VoluMax F1500
Fast inline inspection of large parts
| | |
| --- | --- |
| Part size | ●●●● |
| Accuracy | ●○○○ |
| Speed | ●●●○ |
| Footprint | ●●●● |
| Density | ●●●● |
| Resolution | ●○○○ |

VoluMax F1500 thunder
Fastest inline inspection of mid-sized parts
| | |
| --- | --- |
| Part size | ●●○○ |
| Accuracy | ●○○○ |
| Speed | ●●●● |
| Footprint | ●●○○ |
| Density | ●●●● |
| Resolution | ●○○○ |

VoluMax 9 flash
Very fast inline inspection of very large parts
| | |
| --- | --- |
| Part size | ●●●● |
| Accuracy | ●○○○ |
| Speed | ●●●● |
| Footprint | ●●●● |
| Density | ●●●● |
| Resolution | ●○○○ |
Scopri di più sulla tomografia computerizzata ZEISS su YouTube
Come funzionano i sistemi CT ZEISS
User Meeting di ZEISS CT nel 2017
Caricamento automatico dei pezzi con ZEISS METROTOM
Soluzioni ZEISS CT per l'industria delle materie plastiche
ZEISS CT solutions used at starlim//sterner
Scopri come altri clienti utilizzano questo prodotto: